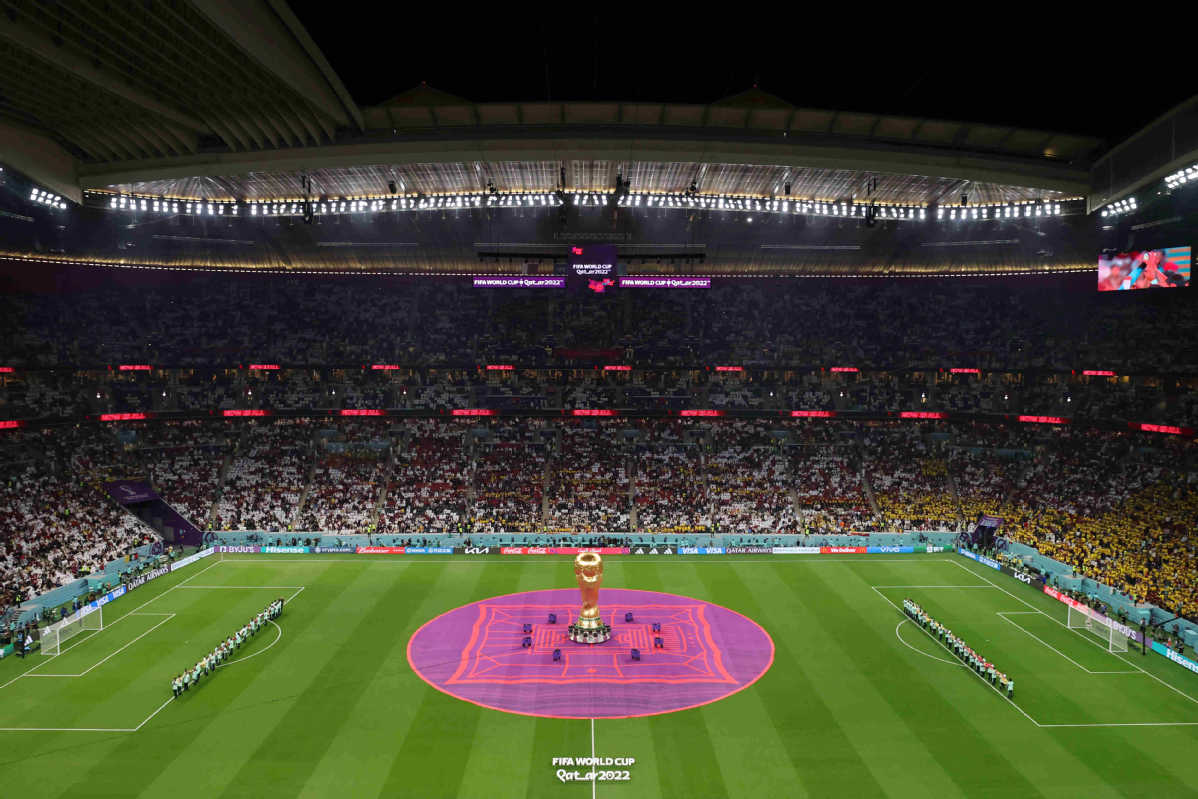 Companies present a wide range of products at the Qatar tournament
While China failed to qualify for the FIFA World Cup finals football tournament currently being held in Qatar, China is still making an enormous contribution to the world's greatest sporting event.
Chinese products, infrastructure projects and sponsors were praised by appreciative fans and potential customers.
In recent months, Luo Yang, sales manager for the overseas business unit of Higer Bus Co, a bus and truck maker based in Suzhou, Jiangsu province, has been keeping a close eye on the 1,815 buses the company shipped to Qatar last year.
These vehicles will operate shuttle services for thousands of fans, officials and journalists from different countries during the tournament, which will take place from November 20th to December 18th.
"After the World Cup, the buses will be used to take children to and from school," Luo said, adding that child monitoring systems installed in the vehicles will set off an alarm when a bus arrives at its destination. The driver moves through the vehicle to ensure the children exit safely before pressing a button to silence the alarm.
Higer's rival, Zhengzhou Yutong Group Co, a commercial vehicle maker in Zhengzhou, Henan Province, exported more than 1,500 buses to Qatar for the World Cup, including 888 electric ones. It is the first time that new energy buses from China have been used in a major global sporting event.
A variety of Chinese items are available at the tournament, including keychains, horns, flags, clothes and shoes from Yiwu, Zhejiang and Jinjiang, Fujian Province, and fireworks from Liuyang, Hunan Province.
Market observers said the abundance of such products is due to China's boom in industrial upgrading, well-developed supply chains and green transformation.
China International Marine Containers (Group), based in Shenzhen, Guangdong Province, was responsible for the construction of Qatar's 974 Stadium, which was assembled from 974 containers and can be easily dismantled.
Air-conditioning systems for 100 security control centers at the tournament venues were supplied by China's Midea Group, and the in-stadium communication facilities and network equipment for the joint command and control center were made in China.
Zhao Xinli, dean of the advertising institute at the Communication University of China in Beijing, said that if the elements provided by China for the Qatar event contested a "Global Manufacturing World Cup," then "Team China" would certainly be a popular winner.
Xiao Shuhong, professor of sports economics at Beijing Sports University, said China's contribution to the World Cup reflects the growing importance of the Chinese market to the global economy. The tournament, held every four years, will greatly boost the growth of the global sports economy by opening business opportunities for export-oriented companies in China and other parts of the world, Xiao added.
Buoyed by their complementary trade structure and the World Cup, the total trade value between China and Qatar rose 64.7 percent year-on-year to US$21.66 billion between January and October, according to the China Customs Administration.
At the Lusail Stadium north of Doha, the capital of Qatar, Unilumin Group, a manufacturer of high-definition screens headquartered in Shenzhen, installed two 70-square-meter light emitting diode or LED screens to show the result during matches. The 190 square meter stadium with a capacity of 80,000 spectators is scheduled to host the tournament finals on December 18th.
Yang Jun, president of Qatar market at Unilumin Group's international distribution center, said that the LED displays used for the World Cup disperse heat better as the Gulf nation experiences high temperatures and strong sunlight. They also have higher brightness than other screens, Yang added.
"The World Cup in Qatar is a microcosm of Chinese brands going global," he said, adding that the company is ready to win more orders for the Asian Cup football tournament to be held in Qatar next year.
Similar views were expressed by Zhang Feng, vice president of Avant Sports Industrial Co, another Shenzhen-based manufacturer of sports equipment and facilities, which has supplied tens of thousands of moveable and retractable seats for the eight World Cup host cities in Qatar.
Zhang said that aiming to play a dynamic role in smart manufacturing, China's manufacturing sector is relying on greener and digital technologies to further compete with global rivals.
"Since Qatar is still relatively hot at this time of year, we used a new type of cooling material for the seats, which can reduce the temperature of the seat surface by 9 to 17 degrees. These seats are designed to last longer than a decade," Zhang added.
Sponsors welcome
Even without the presence of the Chinese team at the tournament, the Chinese sponsors are excited about the Qatar World Cup and have been warmly welcomed by the host country.
According to GlobalData, a data analytics and consulting firm based in London, 20 Chinese companies have provided more sponsorship for the 2022 World Cup than competitors from other countries. These companies lead the world with nearly $1.4 billion spent, surpassing the $1.1 billion spent by US companies.
The Chinese companies are led by four official FIFA sponsors – commercial real estate developer Wanda Group, home appliance maker Hisense Group, smartphone maker Vivo and dairy brand Mengniu.