Blake Thueson rides a bull in this undated photo. This aspiring bull rider's life ended this month after a sudden and devastating illness. (Jodi Thueson)
Estimated reading time: 5-6 minutes
RIRIE, Idaho — The life of an aspiring bull rider ended this month after a sudden and devastating illness.
In early November, 18-year-old Blake Thueson from Ririe, Idaho was at a high point in his life when he competed in the 2022 IMBA World Finals in Reno, Nevada. He was passionate about the sport and did well in competitions.
But during the competition he began to feel ill – an illness that spread quickly and eventually led to his death on November 19.
He is fondly remembered by his friends and family for all of his many achievements.
"He excelled in bull riding. He's won a lot and done so well," Jodi Thueson, Blake Thueson's stepmother, told EastIdahoNews.com.
Blake Thueson got on the rodeo scene when he was 8 years old. His father, Todd Thueson, helped him train. Blake Thueson has lived parts of his life in Utah, spending time with his birth mother and in Idaho.
Blake Thueson's dream was to become a professional bull rider. He should get his professional rodeo card in 2023.
"He wanted to be NFR World Champion. That was his goal and he was well on his way to achieving it. So many people were telling him he was going to be on TV and win a world title because he's the real deal — that's what everyone would say," said Todd Thueson.
Besides bull riding, Blake Thueson loved the outdoors. He would hunt, fish, horseback ride, cross-country bike, and camp. He was known for helping others.
"Todd and I always got comments from other people who only met Blake once. Everyone loved him. So thoughtful and so respectful," said Jodi Thueson. "He always shook your hand and introduced himself."
It's still surreal for Todd and Jodi that Blake is gone because it all happened so quickly.
During the IMBA World Finals in Reno, Nevada, Blake completed three rides, but before the fourth he decided to drop out.
"He said, 'Dad, I don't know if I can ride a horse. I don't feel good,'" recalls Todd Thueson. "Coming from him, he must have been extremely ill from riding bulls with torn muscles and bruised ribs."
When Blake Thueson returned to Idaho, Jodi Thueson decided that she would take him to Community Care in Rigby, Idaho on November 14th. Doctors told Jodi that Blake needed to go to the ER.
Blake was then taken to Idaho Falls Community Hospital. He had liver problems and his condition worsened. On Wednesday, November 16, he was airlifted to the University of Utah Hospital in Salt Lake City.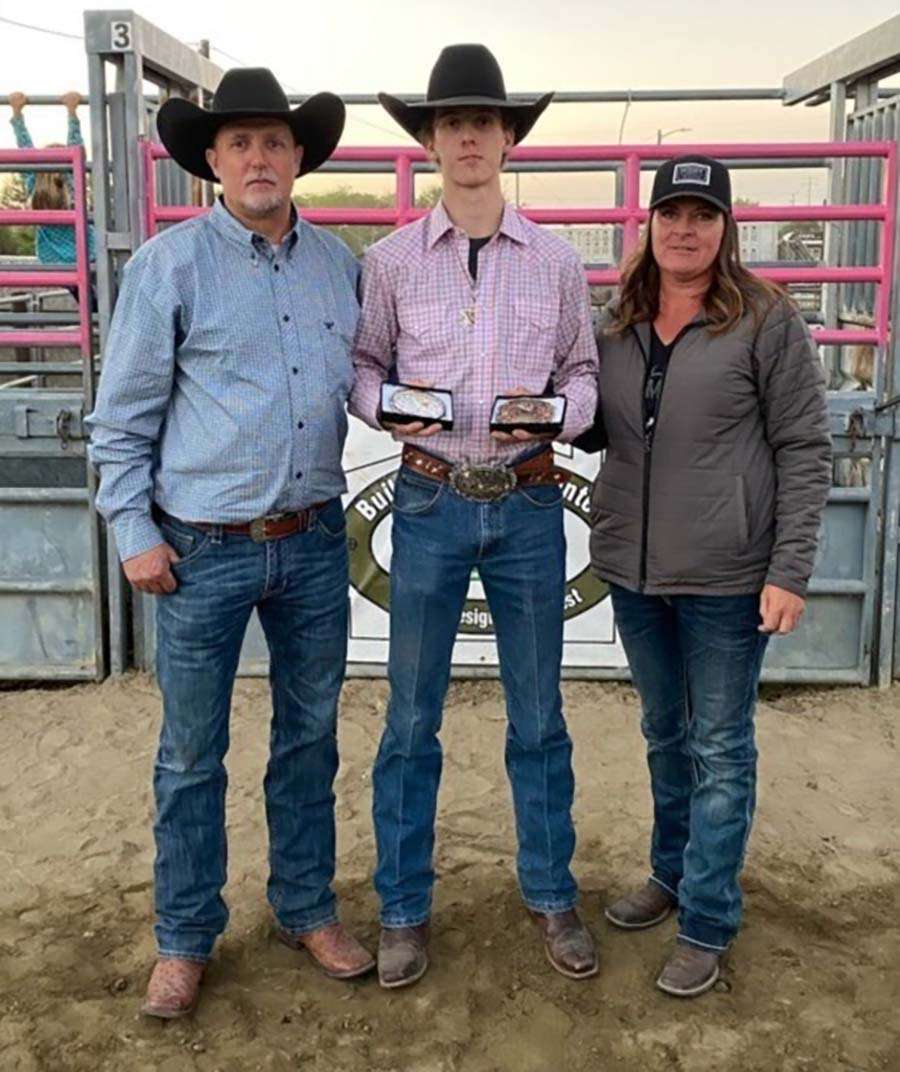 "They (the medical staff) ran every test they could think of for everything because everyone wasn't sure what was wrong. They did MRIs of his entire body and CAT scans. They ran so many tests and we just kept waiting. Some of them they wouldn't come back for four to five days," Todd said.
At the end of the day on November 16, Blake Thueson was placed on full life support.
On November 18, the tests came back. Todd and Jodi Thueson were told that Blake Thueson had mono Epstein-Barr virus. According to the Centers for Disease Control and Prevention, symptoms of Epstein-Barr virus include fatigue, fever, sore throat, swollen liver, swollen lymph nodes in the neck, and rash.
Another test later in the day revealed that Blake Thueson had hemophagocytic lymphohistiocytosis.
"It's pretty rare and kills your organs," Todd said.
Todd said it's the first time he's heard about the disease. According to Johns Hopkins Medicine, it is a rare disease that usually occurs in infants and young children. It can also occur in adults. In adults, many different medical conditions, including infections and cancer, can cause the disease.
Todd Thueson said it was a roller coaster.
"They ran some procedures to help him… it was minute by minute whether he was going to live or not. So we would get good news, and then 20 minutes later we would get bad news that things aren't working again. and so they would try something else," Todd explained.
On Friday night, medical staff told Todd and Jodi Thueson it was going to be a rough night. They had done everything they could to keep Blake alive.
The next day, November 19, Blake Thueson died. Todd Thueson said he is very grateful for the medical staff trying to help his son.
"I have never been to such an amazing hospital in my entire life. The staff, nurses and doctors explained every little thing they did to him. Constant. There were always two nurses with him 24 hours a day," Todd told Thueson. "They would sing to him, talk to him and play his favorite music."
Family members have set up a GoFundMe* page to help the Thueson family with medical expenses. There is a goal of $10,000.
Blake Thueson will be missed by his parents and will always be remembered. Click here to read his obituary.
"I couldn't be prouder of my son for all the accomplishments he's made in his life and for the person he is," said Todd Thueson.
---
*KSL.com does not guarantee that funds deposited into the account will be used for the benefit of persons named as beneficiaries. If you are considering making a deposit into the Account you should consult your own advisors and otherwise proceed at your own risk.
×
photos
The latest stories from Idaho
Other stories that might interest you